Faithful readers, we have arrived together at the highlight of our trip so far, the crown jewel of Chilean Patagonia, Torres del Paine. Now this is not to say that there haven't been other epic times up 'til now, but I deem our Torres trek the highlight because of the combination of stunning and unparalleled natural beauty and the physical accomplishment of completing such an arduous and demanding trek.
We five (us, Gareth, and B+B) had been talking about and planning this trek since we met up in Bariloche so we hit Ruta 40 in Argentina with a renewed sense of excitement now that we were actually drawing near to the trip. But first, Ruta 40—a 3,107 mile long road that stretches from Argentina's northern border with Bolivia all the way down to Tierra del Fuego at the tip of the continent. We picked up Ruta 40 at Perito Moreno, just east of the Chilean border of Chile Chico. The road, mostly paved, and sometimes painfully not, would take us past some of Argentinian Patagonia's most famous natural attractions but we had agreed to bypass them until after the Torres trek since we wanted to finish by Christmas and before the summer hordes descended in January.
The next couple of days were, well, desolate. The road stretched out to the horizon. Nothing to see but flat grassland, clouds, guanacos (smaller, more graceful relative of the llama), and the occasional ñandu (a relative of the emu and ostrich). We were so excited to see other life forms that we'd shout, point, and hang out the windows of the van every time we saw one. It was eerily beautiful and quiet and we'd go for hours without seeing another vehicle. Our routine was basically drive, get gas, drive, find wild camp, repeat.
At last we approached the Argentina/Chile border (for the third time) and crossed back into Chile to Puerto Natales, which is where everyone going into the park takes time to organize their gear and buy supplies and food. We gave ourselves a couple of days at Hostal Rio Tyndal (simple hostel, creative camping spot, but epic host) to get sorted. It was the first trek of this length for Danny and I so we took cues from Bridget and Brendan as to what type and how much food to pack. Basically, unless you have buckets of cash to spend on guides and sherpas, you're carrying all your food and gear into the park with you. This, in our opinion, is the more fun/legit way to do it. If you have never carried 8 days of food on your back before, it's heavy. And I wouldn't know. Danny, wonderful man that he is, took most of our food and heavy items and I was tasked with carrying our sleeping bags, tent, and other lighter things, which for me, were still pretty weighty. But I was looking forward to the shape my legs were going to be in once we finished.
First, a bit about the layout of the park. The central mountain range is surrounded by a looped trail or "O". The front side of the "O", where most visitors begin their trek consists of what is called the "W" so named for its shape. But the "O" can in fact become a "Q" if you include the tail-like trail that extends from the southwest corner of the circuit. The bottom of the tail, 15 additional kilometers from the more popular starting point, is where our intrepid group planned to begin. Also, to help you follow our journey, I should note that all along the circuit are campgrounds where we'd stay (it is prohibited to camp outside of these campgrounds). Some are free and some are run by private companies that you have to pay extra for. The private campgrounds, or refugios, even have cabins with real beds and hot prepared meals that you can shell out extra money for. And all of the camps have little kiosks where one can buy candy, snacks, deodorant, boxed wine, and the like. So, not as remote as I had thought but as the days wore on, I admit that I was glad that cookies were readily available after hiking for 8 or 9 hours.
Day 1: The Tail and Camp Italiano - 24.5 km (15.22 miles)
After spending one night at a campground inside the park, we left the vans at the ranger station and set out on the tail. On clear days hiking the tail gives you extra time to ogle the mountain range as you approach. The tail ends at the place where the ferry drops most other visitors off to start their trek but for us this was only the halfway point of day one. Already pretty bushed but eager to make it to our first camp of the week, we scarfed a soda and a Snickers and continued on to Camp Italiano. This was to be the base of our hike the following day up into Valle Frances. It was only our first day but Bridget and I wasted no time establishing ourselves as the slow pokes of the bunch (slow and steady wins...the Snickers?). Danny, speed demon that he is, had already been at camp for an hour but was waiting for me at the bridge to cheer my last few steps into camp.
Day 2: Cuernos - 16.5 km (10.25 miles)
We woke amidst the crowds of other campers, packed our packs, and left them at the base of the trail to hike up into Valle Frances. We completely lucked out with the weather. Torres del Paine is notorious for having sun, rain, and snow all in one day but the sun shone warm in bright blue skies as we made our way up along the river, past glaciers, to an incredible 360° view of the mountain range. Since the sun had been warming the ice all day, on our way down we were treated to an avalanche or two (from a safe distance of course). Quick stop to eat a granola bar, gather our packs, and march on to Camp Cuernos. We arrived to yet another bustling campground, which we had come to expect on the crowded and more popular front side of the trail, or the "W". We cooked dinner and spent the rest of the evening chatting with other hikers and drinking the boxed wine that is sold along the way.
Day 3: Torres - 20 km (12.42 miles)
Morning finds us scarfing oatmeal and throwing our gear back into our packs to hike to Camp Torres, just 45 minutes from the famous granite towers for which the park is named. Usually, people have two opportunities to see the towers—once in the afternoon when you can still see where you're hiking and again in the wee hours of the morning so you can watch the sunrise and turn the towers pink. Although some of our party (me in particular) had limped exhausted into camp, with rain forecast for the evening and following day, we decided to take advantage of the still clear weather to go up and see the Torres.
Day 4: Serrano - 18 km (11.18 miles)
It's a good thing we saw the Torres the day before because we woke at 3:30 am to the sound of pouring rain making a trek up for sunrise pretty pointless. Back to sleep for a few hours then up early to make the long hike to Camp Serrano. This would be our first day on what's considered the back side of the "O" or "Q" trek. Since fewer visitors to the park have the time (or energy, or will, what have you) to make the complete loop, we were really looking forward to not having to say "hola" to 50 people a day or dealing with crowds and trash or loud, drunk parties until the wee hours. And truly we enjoyed the solitude and change of scenery. What had been views of lakes and craggy, snowy peaks on the "W" now gave way to a softer landscape—rolling green hills and open valleys and fields of wildflowers. Still it was a long day and we shuffled wearily into Serrano to set up camp, cook dinner, and play a few dice games with our fellow trekkers.
Day 5: Dickson - 19 km (11.80 miles)
The next morning we headed to Dickson. We had been looking forward to this stop since it was to be our chance to celebrate Christmas (on Dec 23rd) with a meal inside the refugio. Side note—along the trail there are both free campgrounds and paid campgrounds, with the paid ones offering actual beds and bathrooms, hot showers and meals indoors which is a luxury when the icy Patagonian wind picks up. So with the prospect of a proper meal injecting a little more energy into the group, we set out. This didn't last long. About an hour in, we approached a massive hill. Whatever hopes I had about the trail leading around it were dashed as I spied other trekkers on its face, trudging their way up. Truly this was the hardest stretch of the whole week for me—30 to 40 min, I don't know really, of straight up, my pack feeling heavier with each step as I used my hiking poles to drag myself to the top. Tip: counting your steps helps give you something to focus on aside from the pain. Danny was already at the top to congratulate me but it wasn't very restful since now we were exposing to whipping, ice cold wind. Welp, nothing to do but bow our heads under the wind and continue on. Yet another day of limping into camp. But oh! Dinner! We five, plus new friends Tamara and Lammert from the Netherlands, enjoyed every moment of being inside the toasty warm quincho, feasting on our Christmas lasagna and drinking boxed wine. We fell into our tents full and happy.
Day 6: Los Perros - 9 km (5.59 miles)
We woke the next morning (Christmas Eve) to some light snow. The view up to the mountains where we would be hiking was dusted white. We hurriedly packed our things eager to beat the wind and snow to our next camp, Los Perros. This was where we would prepare to cross the pass, the highest, windiest part of the entire trek. We were prepared to stay two nights if necessary since the park rangers will close the pass if the weather is too bad. Thankfully, most of the day was spent winding through lush forest which protected us from the wind and snow. But the peace and quiet of the trail dissipated when we arrived at Perros. The pass had been closed the previous night so there was now double the number of trekkers at Perros. With the rain and snow, everything and everyone was cold, wet, and muddy. We managed to find a spot inside the crowded cooking shelter and set to work preparing our second Christmas dinner which included rehydrated soup with real cream that I found at the camp shop (what a treat!). We bedded down for the night and tried to get restful sleep in preparation for the pass the next day.
Day 7: Refugio Grey - 22 km (13.67 miles)
Merry Christmas! We woke to good news—the pass was open. We scarfed breakfast, packed and headed out. More snow had fallen overnight so as we made our way higher we found ourselves hiking through it up to our knees. But it was stunning. Everything white and crystalline, the air pure, and miraculously, no wind! Danny reached the pass first with Lammert and Tamara. He told me afterwards they celebrated with hot tea and danced to Christmas music. Then we began our descent into Refugio Grey, the last stop on the trek for us. As we got lower, the snow turned to rain and thus, the trail turned to mud. It made for treacherous hiking and I think we all fell at least a few times. The mud wasn't the only obstacle that day. We also encountered not one, but two, suspension bridges over deep canyons. Danny, who was an hour ahead of me at least, said he had considered waiting for me at the bridge because he was terrified to cross. I don't have a problem with heights but even I was nervous and got a touch of vertigo as I crossed the swinging bridges. No time to stop in the middle and take pictures of the glacier, just keep my eyes up and walk. After a day of hiking in snow, mud, and rain, we were all pretty miserable once we got to Grey. Though it wasn't part of our plan, we decided to shell out again for dinner inside the hotel (yes, there is a hotel at Grey) just so we could have a spot to be warm and dry and maybe steal a spot by the fire. It had started to snow again—we got a white Christmas after all—but we were cozy inside. The whole evening was joyous and celebratory and we fell asleep looking forward to hiking out the next day and getting back to town for a shower and burgers.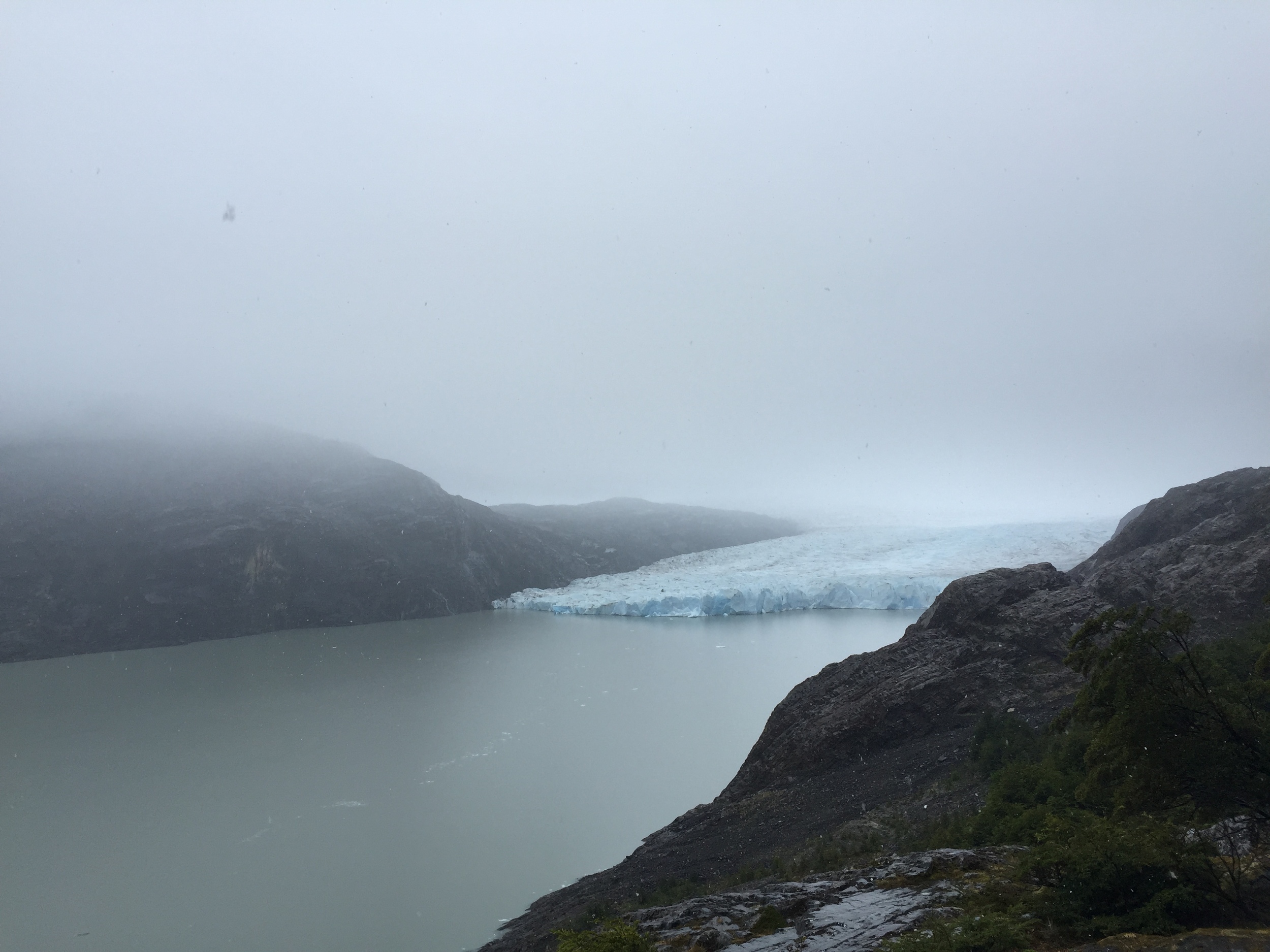 Day 8: Hiking Out and Puerto Natales - 11 km (6.83 miles)
The next day, December 26th, the storm had cleared and we were treated to stunning views of the park as we hiked out. Everything was blanketed in white and the lakes were like glass. We soaked it all in, a little sad knowing we were leaving this place behind. Back in Puerto Natales we luxuriated in hot showers and had those burgers we had been dreaming about. Our last night in town we finally did something we had been talking about the whole trip down to Patagonia—we had a lamb roast! Under the tutelage of Oscar, our lovely host at the hostel, we spent the better part of a day roasting and basting (with a mix of olive oil, rosemary, garlic and mint) our lamb. It was an epic feast with tons of side dishes and shared with a merry group of friends. Truly a fitting finale to the incredible weeks spent with Gareth, Brendan, and Bridget. Needless to say our goodbye the following day was tearful (like, really, a lot of crying) but we parted knowing we would see each other again somewhere on the planet. And so, with hearts full of gratitude, we said farewell and pointed Masi south for the last time. Punta Arenas here we come!