By Shannon Cronyn
With the back and forth between Ubatuba and the mechanic in Sao Paulo, we determined that to keep to our roughly determined travel schedule we needed to head west. The northeast beaches of Brazil will have to wait for another trip! So we turned toward one of the most famous attractions in all of South America, Iguazu Falls.
A couple of days driving and Masi was feeling okay. But nothing had prepared us for the sudden loud clamor from the engine—our alternator belt had been shredded to pieces and we were unable to drive any further. Luckily, we had a couple of spare belts with us and we headed off again. At our next stop we checked the belt and what do you know, it had twisted itself inside out. These things should last at least 50,000 miles so thinking that this new problem was likely due to some error the mechanics made while changing our alternator in Sao Paulo, we tentatively continued hoping the belt would hold. And of course, number two belt shredded about 50 km outside of Foz do Igauçu leading to us struggling in the dark on the side of the highway to put on the third belt of the day. Thus was our arrival to Foz.
We set up at a wonderful campground outside of town very near to the entrance to the falls. The next day was bright and sunny, perfect weather for visiting the falls. Arriving at the entrance felt very much like arriving at Disneyland. Hundreds of people milling around the ticket windows and lining up for the double decker buses that brought visitors into the park. One windy ride later, we disembarked and caught our first glimpse of the falls and those wily coatis—long-tailed relatives of the raccoon who have learned that the hordes of tourists around the falls are a far easier source of food than hunting for it the forest.
Eager to get up close and personal with the falls, we carefully picked our way down the damp mossy path down to the viewing platforms. Now, the falls straddle the border between Brazil and Argentina so there is some debate as to which side is better and most people try and visit both sides. Since we couldn't afford to waste the space an extra stamp would take in our passports, we settled with seeing only the Brazilian side. And it did not disappoint. I think you get a much more broad, panoramic view of the falls from the Brazilian side and there is still an opportunity to experience the deafening roar of the Devil's Throat, where nearly half the falls' flow plunges more the 350 feet into a U-shaped chasm. We went out to the end of the viewing platform and if it hadn't been for our rain jackets we would have been soaked to the bone. Now wanting to get dry, we headed up and out, past floating butterflies and rainbows shimmering in the waterfalls' spray.
Still grinning from our experience of the falls, we settled at a table in the restaurant area to eat our packed lunch. Having read that the coatis are extremely aggressive when food is around (pretty graphic posters of coati bites are featured in the park), we hunched around our meal and kept vigilant watch for the sneaky thieves. It was rather a humorous environment—park rangers ran back and forth with brooms hissing and swatting at the coatis while less vigilant tourists screamed when the boldest coatis scrambled onto their tables to grab burgers and fries literally from their hands. I still think they're pretty cute.
After our visit to the falls, we stopped in at the bird park across the street. What seemed like a gimmicky tourist trap was actually a remarkably wonderful experience. Parque das Aves is well worth a visit to see hundreds of birds, especially the macaw enclosure where hundreds of bright blue, yellow, and red parrots swoop and squawk right above your head. I'll let the photos sell the place!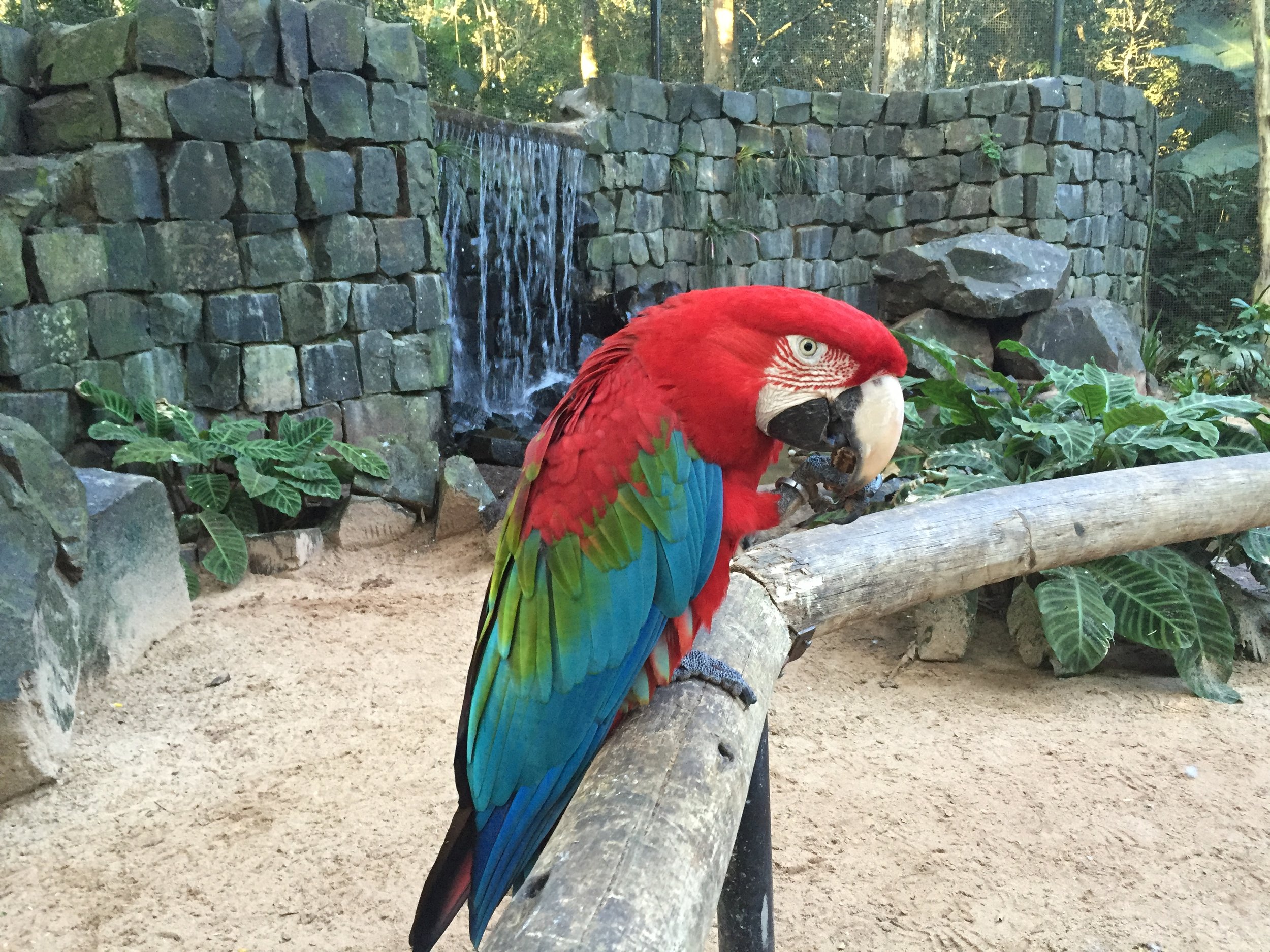 Back at camp we made plans to move to a hostel in town. Our friend Gareth put us in touch with an American guy named Neill who was staying at the hostel while looking for his own VW bus to buy and fit out for traveling. He spoke Portuguese and knew a lot about Kombis we were told. Well, turns out Danny's Portuguese and knowledge of Kombi engines was better but Neill is a pretty outstanding guy anyway. We had a fun few days hanging at the hostel talking travel and VWs and making some repairs to the alternator pulley (involving a Woodruff key, world's smallest auto part) so we wouldn't keep shredding belts. Neill also took us on a field trip to Paraguay! Technically Americans need a visa for Paraguay, but because Ciudad del Este, one of the most popular free trade zones in South America, sits directly across a bridge from Foz, we were able to walk in and out without getting stamped (deliciously dangerous!). This was where Neill was stocking up on all his tools and gear for his van so we took advantage of the trip and bought a cheap inverter so we could charge electronics in the Kombi. We were briefly tempted to stay longer in Foz and build furniture for Masi alongside Neill and his Kombi but we decided to press on. My birthday was coming up after all and we had a couple of weeks of adventure planned to celebrate.
Our first stop after Foz was the small town of Bonito in the southeast part of Mato Grasso do Sul. We had heard amazing things about the area and it absolutely lived up to the hype. Some people might be turned off by the fact that you MUST buy tour packages for all the natural attractions in town ahead of time (they'll turn you away without a voucher) but we felt that this system was just responsible tourism, ensuring that the beautiful caves and rivers stay pristine for generations to come. We set up our base at a quiet campground outside of town—we were literally the only ones there—and booked up our next few days with excursions. Our first day we drove out to see the Gruta do Lago Azul (the Blue Lake Cave). Since it was late in the day, the cave was pretty dark so the lake wasn't as bright a blue that you see in all the travel brochures. But I love caves and it was cool to hike down into one and imagine what it would be like to swim out into the dark corners of the lake (something we would actually do later in the week in another cave!).
The following day we woke early for our snorkeling excursion in the Rio da Prata (Silver River). We arrived at the Recanto Ecologico Rio da Prata just in time for the guides to brief our group on the day's schedule. In a nutshell, put on a wetsuit and snorkel, get in the river, and be amazed by the fish! The Rio da Prata is fed by underwater springs and the water is so full of minerals that it's one of the most crystal clear rivers in the world. Which makes for excellent fish watching. And there are fish by the hundreds! It was incredible to float down this serene river amidst schools of fish. The amazement just didn't stop. We even spotted a caiman semi-submerged on the bank. He kept to himself though and held still long enough for the whole group to take a look as we swam by. We felt it best not to linger. After about an hour in the water, the clear part of the river meets up with a rather muddy part. Our tour ended there and we returned to the Recanto for a delicious buffet lunch. Our verdict? If you could do only one thing in Bonito, this would be it.
But that didn't mean we were done. Birthday week adventures continued that afternoon with my first ever ATV ride through muddy jungle trails! Danny and I each got our own (with sturdy helmets of course) and we followed our guide out onto the trail. The couple in front of us preferred to drive at leisurely safari speeds so we had to hang back long enough to give ourselves space to speed through the muddiest bits. That feeling of badassery didn't last long though—I went too fast into a turn and ended up tipping my ATV over and pinning myself between it and a tree. Those things are heavy! Thanks to my helmet, I came away with just a scratched arm and decided to take it a bit easier the rest of the time.
The next day was to be the grand finale of our Bonito adventures! We were going to fulfill a lifelong dream of mine to abseil down INTO A CAVE! Ever since I was a little girl, I've had a weird obsession with caves and cave-like places in general thanks to National Geographic Magazine's periodic issues on cave systems. Up 'til now this fascination was fed only by building (awesome) tents at home or scouring the beaches of my childhood for any dark cranny that could conceivably be called a cave. And now, I was actually going to descend into one! And it was going to be HARD, not like those dinky caves with railings and cement that just any old person could explore. How hard, we really had no idea since the training session consisted of ascending and descending a rope from a platform 30 feet above the ground. They made us do it twice to make sure we were fit enough to handle the real thing. Our first suspicion that this so-called training session was less than adequate was when we arrived at the cave entrance. This one was called Abismo Anhumas (the Anhumas ABYSS! EEE!). I'll pause here to thank my hero of a husband for doing this with me. Bless him, his fear of heights never stops him from doing anything heights-related in the hopes that this type of exposure therapy will work someday. That said, however excited I may have been, he was equally not at all excited and pretty terrified. But he did it for me and I love him for it.
So the ABYSS. We were in line, shifting uncomfortable in our helmets and harnesses. The couple in front of us asked whether we had seen the hole yet. We hadn't. So we stepped out of line to walk around the viewing platform to behold a giant gash in the side of the mountain with green ferns and other plants spilling over its sides. In the darkness of the opening you could barely make out two abseilers who had begun their descent and were disappearing into the shadows. We got back in line and made small talk with the couple in front of us—Simon and Gaby. He's British, she's Brazilian and when we met them were wrapping up their last vacation in Brazil before moving to NYC! These two deserve their own post really but for now I'll just say that I'm really glad that I struck up a conversation. Since you descend into the cave in pairs, Simon and Gaby went first. Once they were safely at the bottom, it was our turn.
Let's just say that this rope climbing business was waaaaaay different in the training gym. Now we were dangling over a dark hole, the safety of the bottom 250 feet down the rope. Here goes nothing. Gripping our descenders, we squeezed and gently fed the rope through as instructed. It was a harrowing trip down. We only had the security of the cave walls for the first bit before we were literally hanging in mid air in the cave opening. Danny had his eyes squeezed tightly shut and I coached us slowly deeper into the darkness of the cave. At last we were grabbed by the guides at the bottom who lowered us to the solid ground of the floating dock. Oh yea, there's a lake down there. A deep ass one that hides incredible stalagmite cones and the bones of unfortunate animals who have unwittingly stumbled to their deaths. Once on the dock, we changed into our swimsuits and wetsuits for the snorkeling portion of the tour. While we waited for the rest of the group to get ready, I took in my surroundings. The cave was vast. What little light made it in through the hole at the top illuminated fantastic mineral formations and shimmered off the water near the dock. But looking deeper into the cave there were only shadows. Now it was time to get in the water. It was cold and eerie. As we swam further out into the cave, the guide illuminated the cones beneath us and I had the feeling of flying. The tallest cones rose nearly 200 feet from the bottom of the cave floor which wasn't visible despite the guide's powerful flashlight. He told us later that the deepest part of the cave is nearly 300 feet deep. Back on the dock we changed into dry clothes and got into an inflatable raft to explore the cave from the water's surface. Drifting slowly into the dark I imagined I was in the Horcrux cave from Harry Potter. The guide took us around the whole cave talking quietly about the formations and different minerals as our eyes strained to appreciate the weird scenery illuminated only briefly by flashlight.
At last it was time to leave the same way we came in, on the ropes. We had heard that sometimes the wait at the bottom is very long since it can take up to an hour for some people to ascend. We were prepared with cookies and a thermos of hot water for tea. When our turn came we jokingly asked the guides what the record is for getting up. It's a minute and half they said. Yeah, no. We did it in just over 30 minutes but man what a 30 minutes it was. A sweaty, grunty, whimpery 30 minutes of raising hands above the head and knees to the chest and then standing up. Over and over and over again. At the top we were cheered by Simon and Gaby who invited us for celebratory drinks. We spent a delightful afternoon together drinking entirely too much and sharing stories and promised that we would visit them in NYC. To date, they are settling in in fantastic fashion (thanks largely to our exhaustive email detailing the best of New York City) and we are supes jealous.
From Bonito, we continued north to the southern Pantanal, the wetlands of Brazil and home to myriad creatures including jaguars, caimans, giant otters, capybaras, macaws, and toucans. Once we left the main highway, we skidded through some muddy sections of dirt road to arrive at the Pantanal Jungle Lodge. My birthday week adventures continued with a three-day tour package that included tours by Jeep and by boat to spot animals in the wild. In the first couple of days we saw a lot of capybaras, caimans, and little green parrots. Occasionally a toucan would appear and a British girl in our group would leap to her feet in the back of Jeep shouting "Toucan!" and pointing. She loved them so much and it was delightful. The giant otters were tougher to spot. Hours on the river and we only saw one briefly as she came out from her nest in the reeds to get a better look at our boat. Apparently the locals are more afraid of the giant otters than caimans or piranha because the otters are incredibly territorial and will fiercely defend their nests from intruders.
The jaguars are not to be trifled with either. We didn't see one but it was just as well since the guide was visibly nervous after finding fresh tracks during one of our hikes. One of the best moments was spotting two blue macaws during our river boat tour. We had resigned ourselves to not seeing them since they tend to hang out in an area only reachable on horseback so we were thrilled to see them in a palm tree as we rounded a bend in the river. Another highlight was eating our freshly caught piranha for dinner one night! Those suckers are super easy to catch—turns out all you need is a little fresh cow heart and you'll have a meal in minutes. They're also quite delicious. Side note, we fished those piranha out of the very same river we had swum in earlier that day…the guide didn't tell us about the piranha until after we were done swimming. He sort of shrugged and said they don't bite unless you're literally hemorrhaging blood into the water. In the end the only ones being eaten were the piranhas so I guess it worked out all right.
The Pantanal was a perfect culmination to my birthday week. Still high from our near two-week nature immersion, we rumbled on to the Brazilian border town of Corumba to celebrate the actual night of my birthday and to prepare for our crossing into Bolivia. Spoiler alert, it went really well. Until next time!